Frieze Masters
London
October 15 - 19, 2014
Installation Views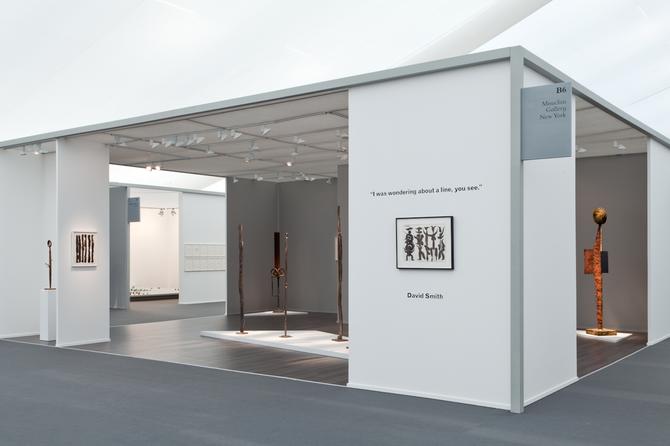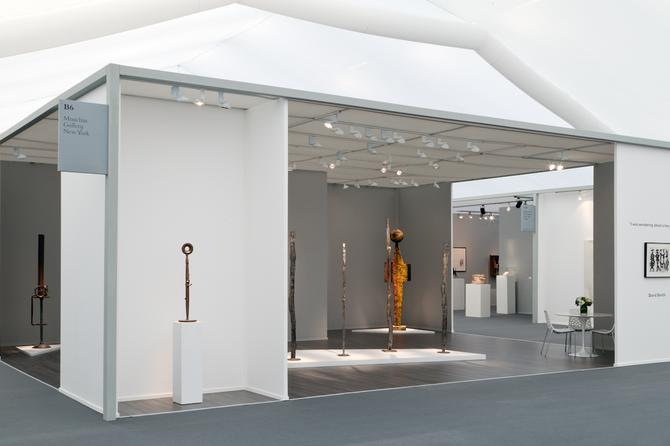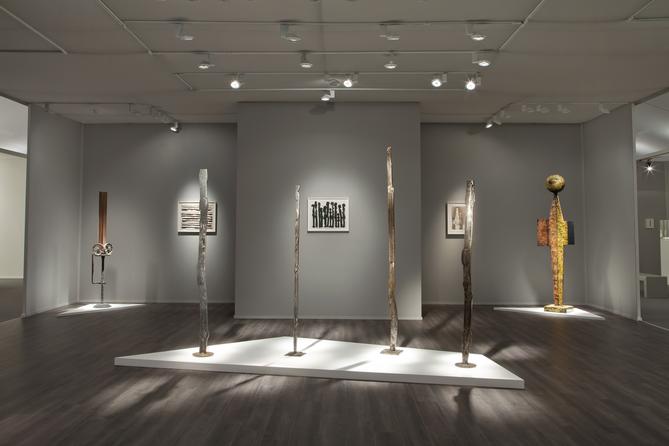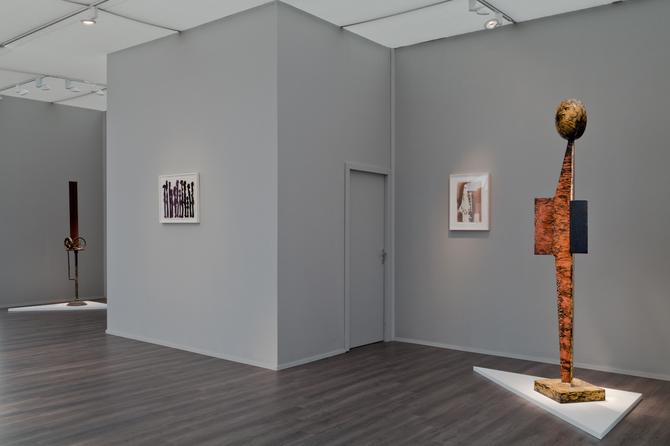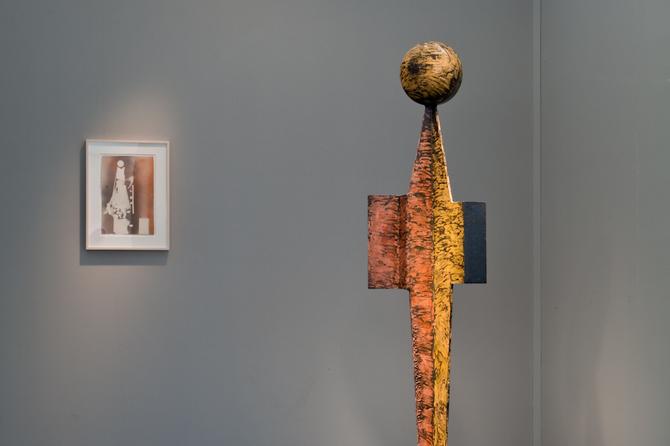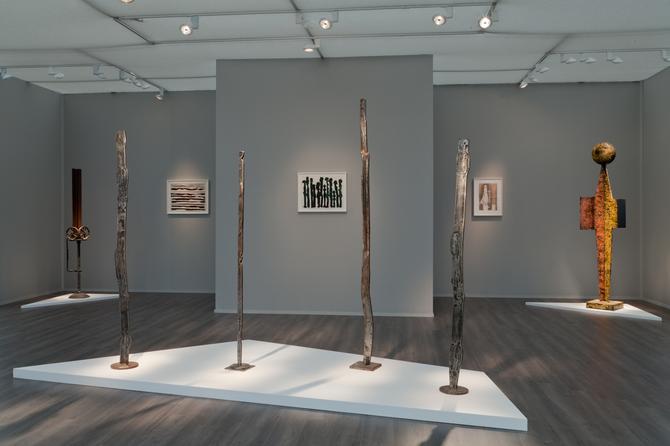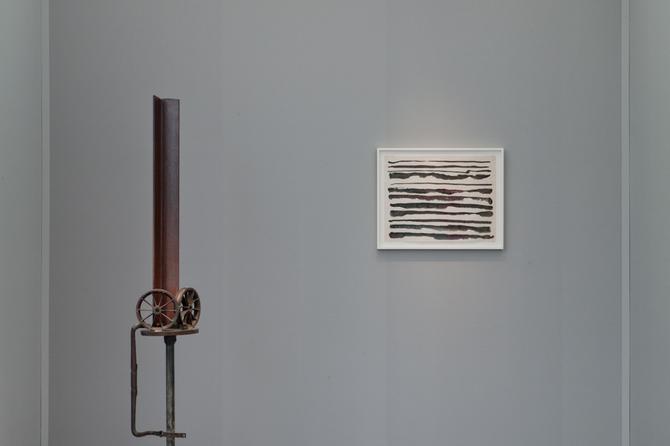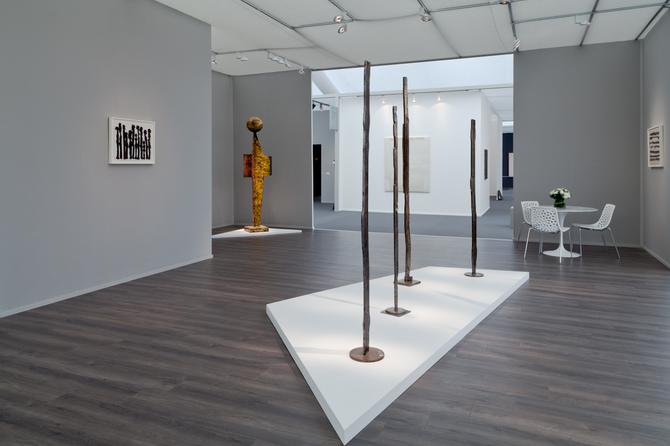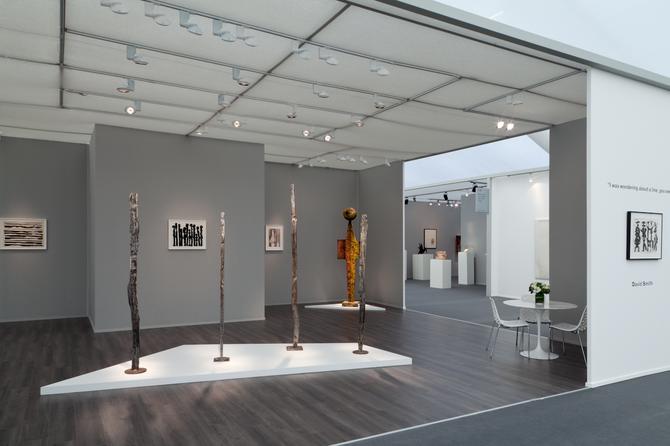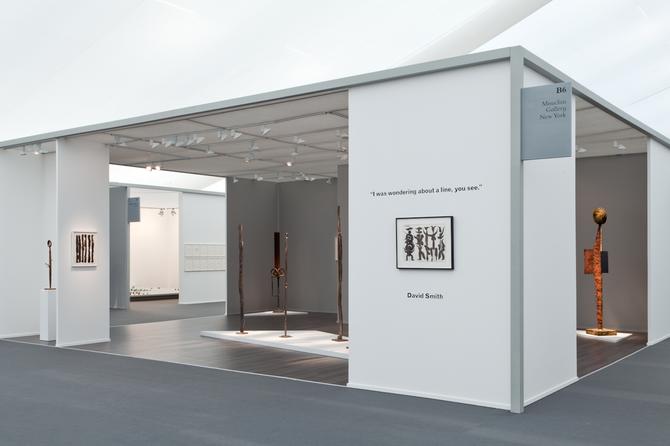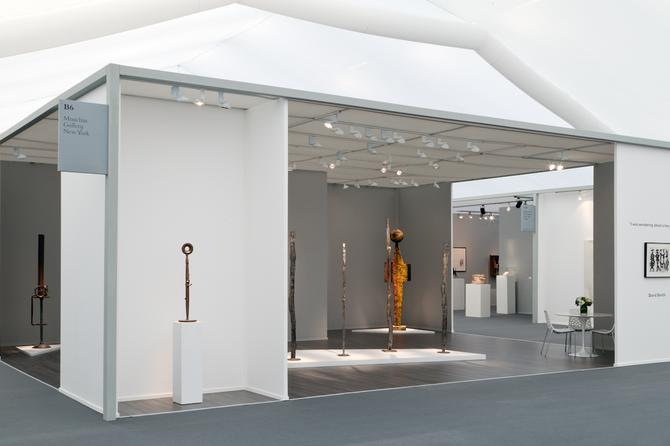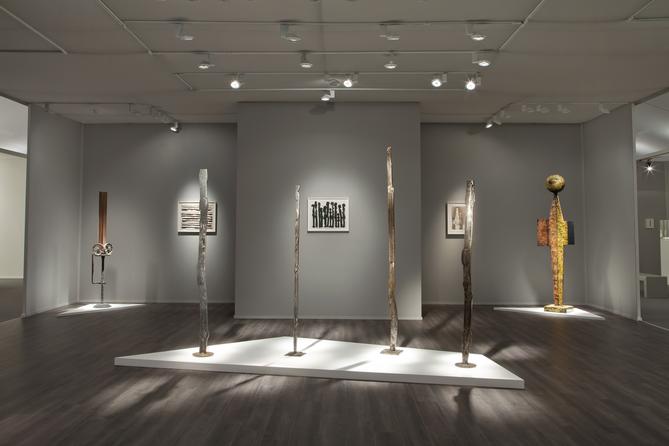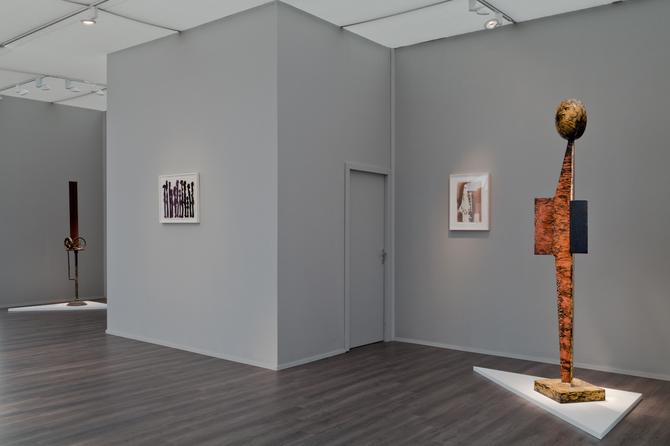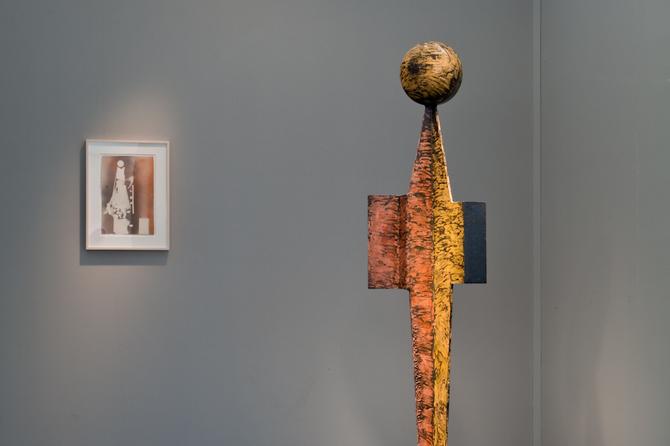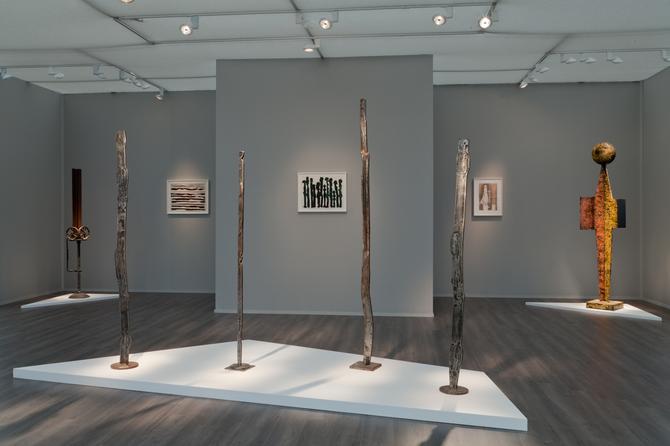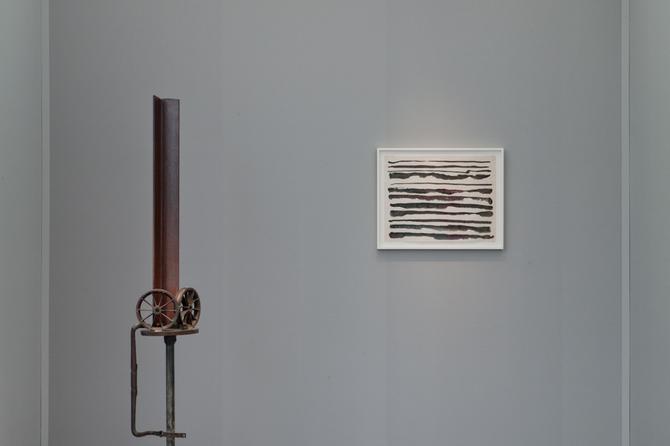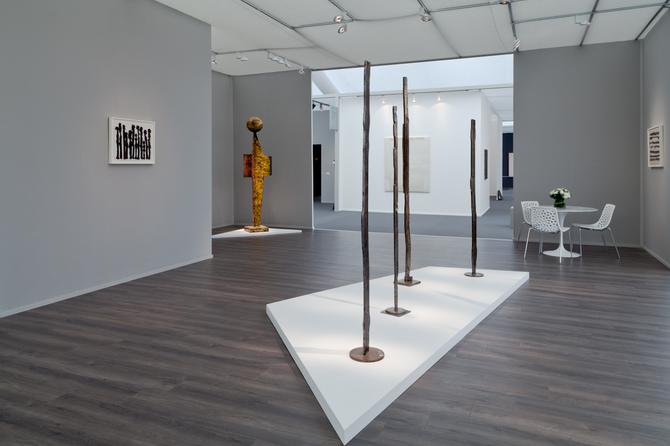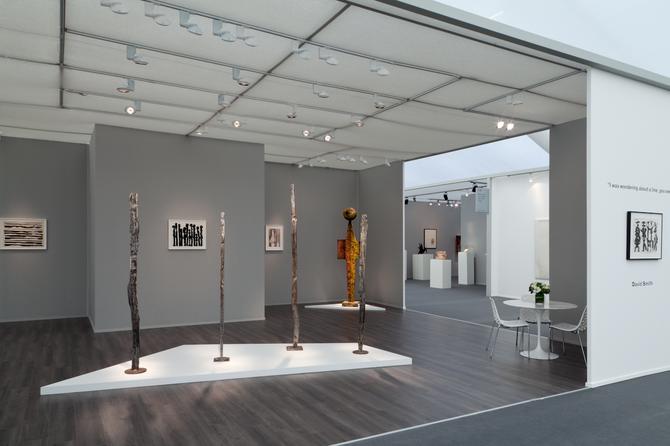 Press Release
Frieze Masters
London
October 15 - 19, 2014
Mnuchin Gallery, (Stand B6), will present a solo exhibition of work by acclaimed American sculptor David Smith featuring a selection of sculptures from the artist's historic Forging series. This will be the first solo exhibition of Smith's work in London since the retrospective, David Smith: A Centennial, traveled to the Tate Modern in 2006-07. The monolithic linearity of the Forgings is emblematic of Smith's groundbreaking use of industrial processes, materials and fabricators— a shift in approach that dramatically altered not only the future of his own oeuvre, but also the course of twentieth-century sculpture. Working closely with Peter Stevens, Executive Director of The Estate of David Smith, Mnuchin Gallery has curated an exhibition at Frieze Masters that will contextualize the Forgings with other works by Smith that share their totemic qualities and emphasize the dramatic diversity of his oeuvre. Spanning the years from 1955 to 1963, these sculptures echo the abstract verticality of the Forgings and demonstrate Smith's mastery of a wide range of materials— including bronze, painted steel, and found objects— and subject matter, including surrealist human figures and machine-like assemblages. On view will be Ninety Father (1961), VB XVII (1963), and Untitled, an intimate unique bronze dating from 1955. The gallery's presentation will also include several works on paper that highlight the ways in which Smith's sculptural processes are deeply rooted in the practice of drawing.
Selected Press
ARTnews
'What the Heck? We'll Take a Chance'
November 5, 2014
With absurdly big-money auctions on tap this week in New York, it seems like a nice time to stop and state the very obvious—but heartening!—fact that art-historical importance does not always translate into instant art-market success, and vice-versa. One nice example comes to us from Marion Maneker's recent podcast about the market for David Smith work, which features the director of the Smith estate, Peter Stevens, and dealers Robert Mnuchin and Sukanya Rajaratnam, of Mnuchin Gallery, which staged a Smith show in their booth at Frieze Masters last month.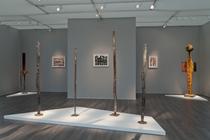 artinfo
Frieze Masters Skews Modern, Sees Swift Sales
October 16, 2014
German Zero artists, 1960s Italians, and various flavors of abstraction from Brazil, Japan, and the UK were in heavy rotation at the stands at Frieze Masters, the spinoff fair dedicated to pre-2000 art.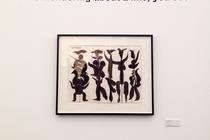 The Wall Street Journal
London's Frieze Art Fairs Begin Strongly
October 16, 2014
Last year, numerous dealers in London for Frieze Art Fair likened the locale to a barn: roughly hewed wooden floors in a perpetually drafty building and lots of squawking from visitors—with little intention to buy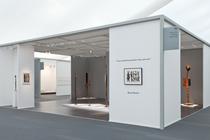 Artnet
Top Artists at Frieze Masters
October 15, 2014
The contemporary art fair is a promenade, a place to see others and be seen in public. Handbags rule, and the more exotic, the better. Buying art feels secondary, reserved for oligarchs and sheikhs who don't talk prices.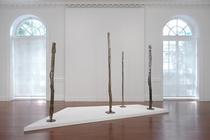 Bloomberg News
Hirst Tops Sales as Buyers Pick $2.2 Billion Frieze Art
October 15, 2014
Damien Hirst, Pablo Picasso and Andy Warhol works sold for more than $3 million each as wealthy collectors got first dibs at the opening of the Frieze Art Fair in London.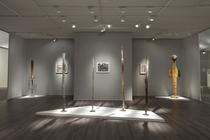 Financial Times
Frieze Masters: Show Stoppers
October 15, 2014
Despite the presence of such important names as Rembrandt and Picasso, many of the most powerful and moving works of art at Frieze Masters were made by those whose identities are lost to posterity.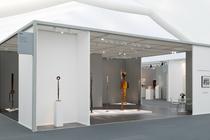 Art Market Monitor
Artelligence Podcast: Mnuchin Gallery at Frieze Masters, David Smith: The Forgings - Interview with Marion Maneker
October 1, 2014
Gallery partners Robert Mnuchin and Sukanya Rajaratnam, along with Peter Stevens, Executive Director of The Estate of David Smith, discuss Mnuchin Gallery's upcoming solo-artist booth dedicated to the work of David Smith at this year's Frieze Masters in London.